Sea Turtles Swim Team
Sea Turtles Swim Team is open to swimmers ages 7-18 years. Children 7-9 years must be able to comfortably swim front crawl(freestyle) and back crawl one length of the pool (25 yards). Children 10 years and up must be able to comfortably swim front crawl(freestyle) and back crawl two lengths of the pool (50 yards). Swim assessments for new swimmers to swim team are performed by coaches prior to start of season.
Coaches instruct swimmers on proper technique for the four competitive swim strokes. Team spirit and unity are developed while competing with other YMCAs in Minnesota. The full season typically runs from end of September until mid-February.
YUSA Rule –Swimmer must be a YMCA member to participate on Sea Turtles. Youth memberships have full access to YMCA facility that is age appropriate. Youth must be 12 years old or older to visit the Y without an adult present and must have completed a Wellness Center orientation prior to using the Wellness Center (room with treadmills).
2023-2024 Sea Turtles Swim Team Information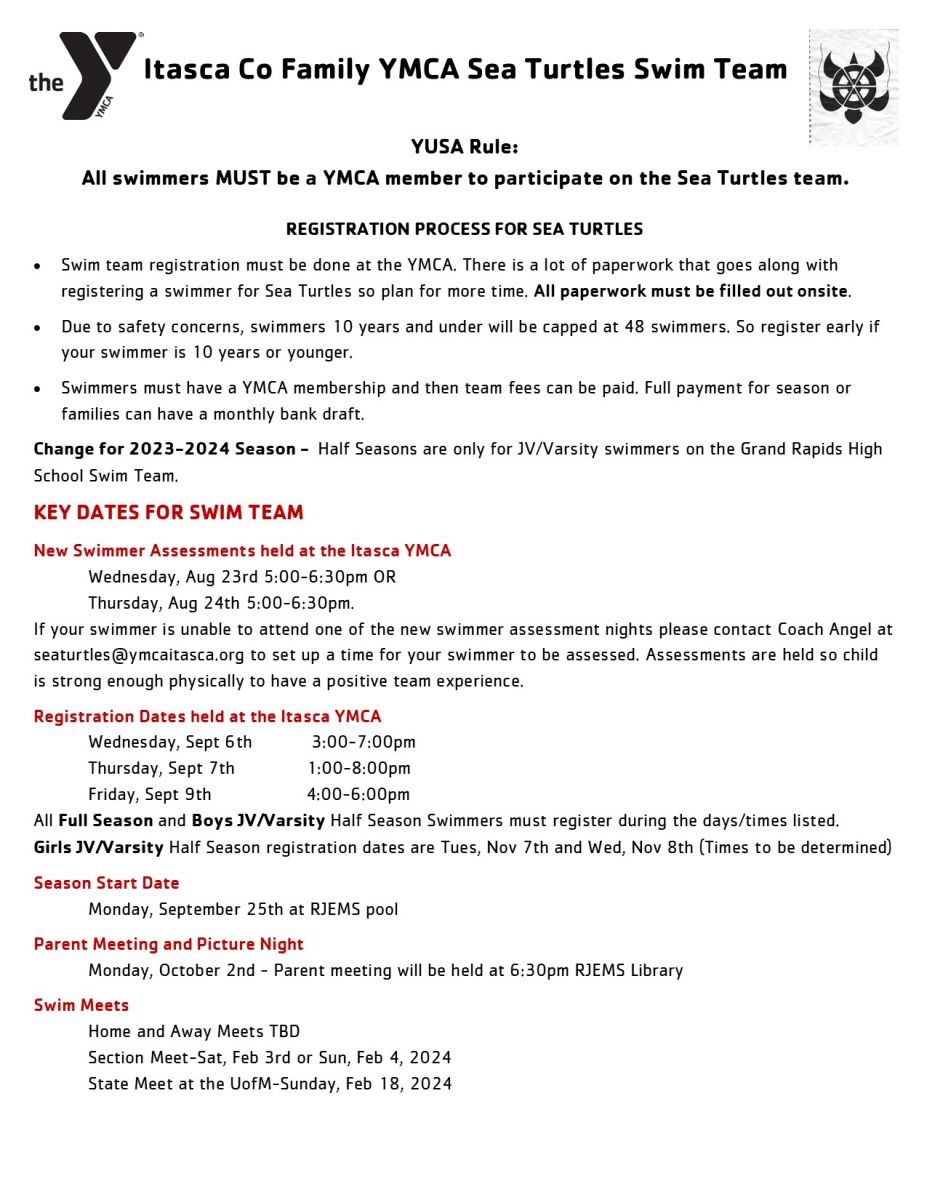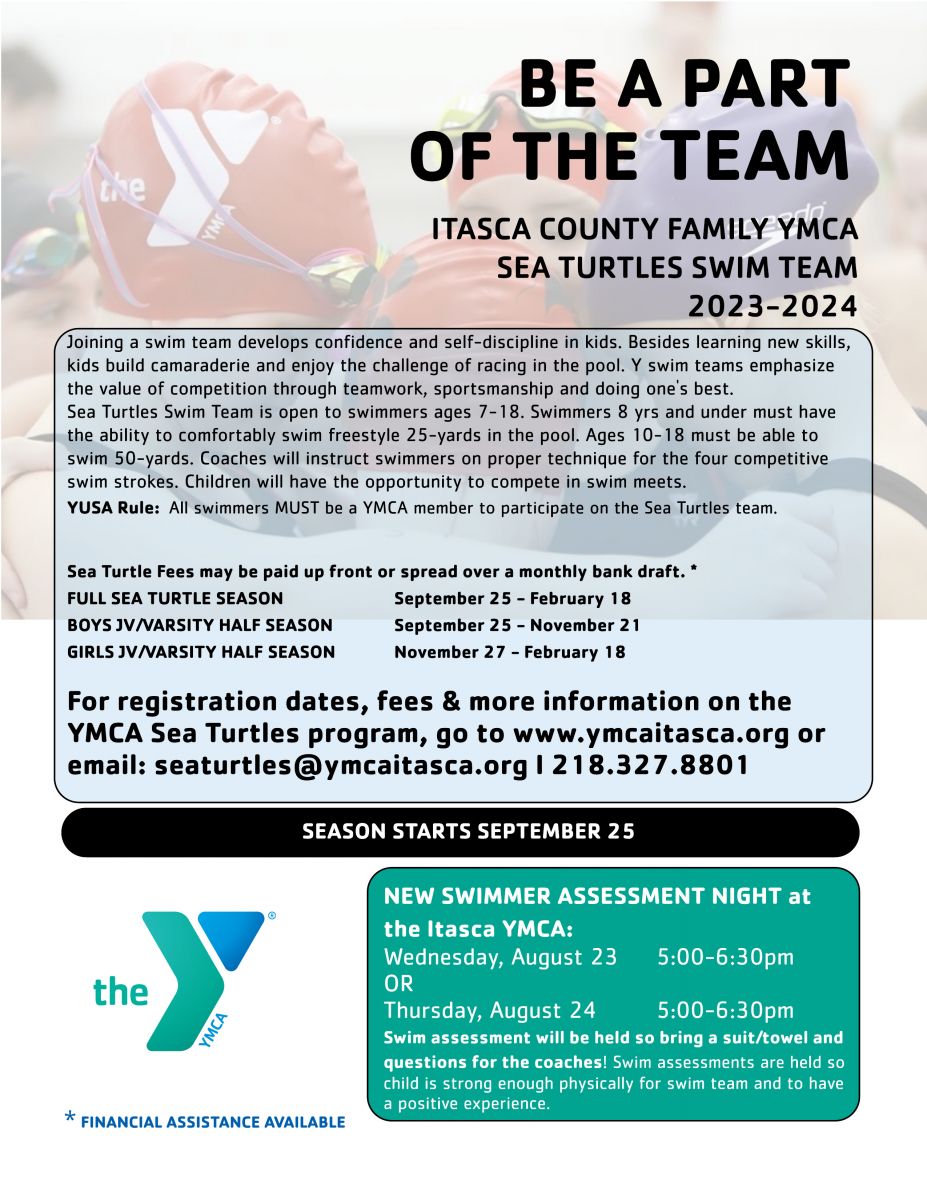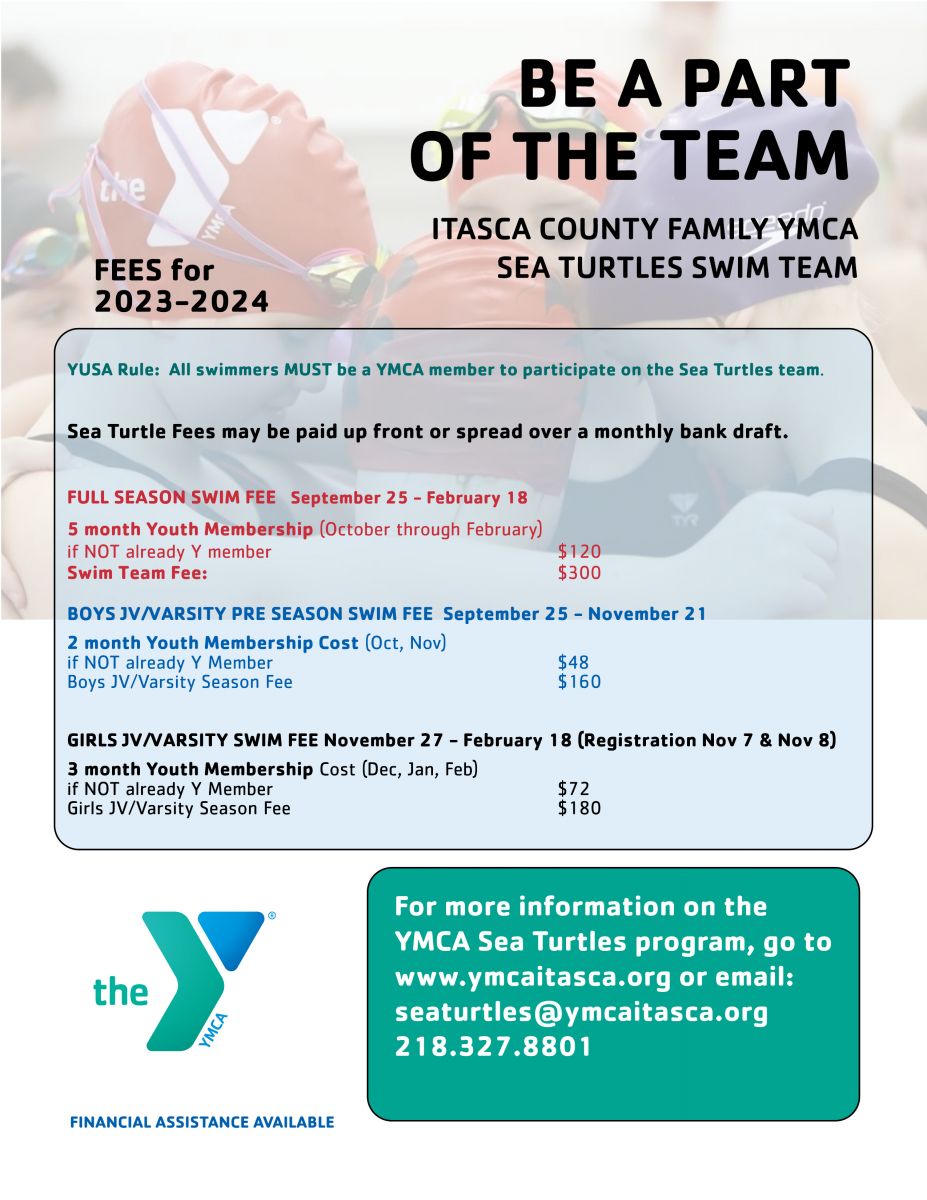 Click to view the following forms/information:
FULL Season Registration Form 2023-2024
BOYS JV/VARSITY Preseason Registration Form
Swim Team Program AD Sponsorship Information
How to mark your swimmers arm for a swim meet
Frequently Asked Youth Swim Team Questions:
How old should my child be to start swim team?
It does depend on the strength of the child but a good age to start swim team is age 7 years.
Do all beginner swimmers have to do a swim assessment?
Yes, coaches need to assess beginner swimmers prior to the start of swim team. This is usually done at the Itasca YMCA swimming pool on scheduled evenings. Child should bring swimsuit, towel, and goggles for the assessment test. Children 7-9 years should be able to swim comfortably the length of the pool without any assistance (25 yards). Children 10 years and older should be able to swim comfortably two lenghts of the pool without any assistance (50 yards). SEE NEW SWIMMER ASSESSMENT LINK
My child participated in swim lessons but what level should they have completed prior to swim team?
Children that have participated in level 5 - YMCA swim lessons are usually ready for swim team.
My child still has a long way before mastering the swim strokes, can they still swim?
Yes, swim team will teach swimmers stroke and proper breathing.
How long is the swim team season?
Full Season runs end of September through mid-February.
Where does the swim team practice?
Sea Turtles swim team practices at the Robert J Elkington Middle School. The YMCA and ISD 318 work together so that our swimmers can use the MS pool.
What time are practices held?
Practices are held 6-8pm. Swimmers are broken into two groups and either swim 6-7pm or 7-8pm. Beginner swimmers and younger swimmers typically swim 6-7pm. Older swimmers that are beginners may be asked to move to 7-8pm practice slot as they improve.
What days of the week does swim team practice?
Practices are held Monday, Tuesday, Thursday, and Friday.
How many practices does my child have to attend during a week?
It is encouraged that swimmers attend all scheduled practices but we understand that may not be an option for all families. There are no minimum days to attend practice but, as with any other skill or activity, the more practices a swimmer attends in a week they will become a better swimmer.
Can my child swim half season?
Half season is only available for swimmers that are on Junior Varsity or Vasity swim team for Grand Rapids HS.
How many swim meets during a season?
The Itasca YMCA hosts three home swim meets at the MS during the full season (Sept-Feb). Meets are held on Saturdays and usually start at 10am and last four hours. Swimmers do not have to participate in swim meets. Swimmers do have to compete in three swim meets (home or away) if they want to swim in the section or state swim meet. Away meets are optional and usually held in Duluth, Superior, Brainerd and possibly St. Cloud or Minneapolis. Parents are responsible for transportation to and from away meets. Section meet usually involves travelling and state meet is always held at the University of MN Aquatics Center in Minneapolis.
Does my youth swimmer need to have a YMCA membership?
Yes, according to YUSA all swim team participants must have a YMCA membership to participate on swim team. Children 12 years and older can use the Itasca YMCA facility during operating hours without an adult present. Children under 12 years must be accompanied by an adult.
Does my child need to wear a team swimsuit, swim cap, and goggles?
Yes, a team swimsuit for swim meets is required. Information about the team suit is given at the Parent Meeting that is typically held on a Monday just after the start of the season. Financial assistance is available for any swimmer that needs help purchasing a team suit. Team swimsuits should be saved and worn at all meets. A team suit makes a child feel like part of the Sea Turtles Swim Team. Swim Caps can be purchased at the YMCA Membership Desk along with goggles.
What if I have a child that wants to be on the swim team, but our family can't afford it?
Financial assistance is available for swimmers. Please see the Membership Assistance tab on this website and follow the procedures for assistance. The YMCA also allows for month bank draft payments made for swim team fees and YMCA membership.

CANCELLATION POLICY:
In the case of a cancellation, credit vouchers may be granted. NO REFUNDS. If circumstances dictate closing of the pool or early ending of season by the YMCA, prorated vouchers may be granted from closure time till reminder of season.
Financial assistance is available, see membership desk for information.
Questions? (P) 218-327-1161
(E) kbolin@ymcaitasca.org